I am joining Rebecca for Simple Things Sunday, again this week. Her idea is to encourage us to capture those little everyday moments with our camera..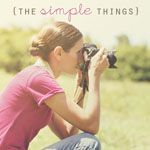 I had taken my camera with me to church today (don't we all do that?? )
Anyway with both kiddies dressed in their Sunday best and just happen to be color co-ordinated, before I took the photos I had brought my camera to take, I managed to capture some cute ones of the "Besties" sitting on the bench after church today.

This one is my fave..
It was such a precious moment, I asked Will to whisper a secret to Sara *click*...She smiled and looked at him and said..."I love you too"
*melt*

Truly the simplest things make us smile the most.